Welcome to Safe Kids Oregon!
TV AND FURNITURE TIP-OVERS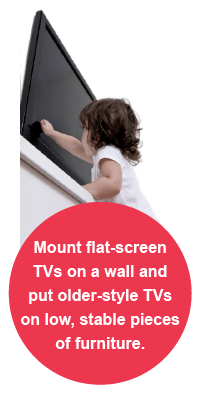 Ready for the big game on Sunday night? You've probably got a list of things to take care of before everyone comes over to watch – get the chili going in the crock pot, wash (or don't wash) your lucky shirt, be sure your favorite chair is positioned just so. But, when you brought home that brand new big-screen TV, did you make sure to safely secure it to the wall?
This Saturday, February 1st is National TV Safety Day, and it's the perfect opportunity to make sure you're keeping your kids safe from a TV or furniture tip-over. A child dies every three weeks in the U.S. from a TV tip-over, with hundreds more being injured. Here are some tips to protect your children:
TV Safety Tips to Protect Your Kids
Mount flat-panel TVs to the wall to prevent them from falling off stands. Follow the manufacturer's instructions to ensure that you have a secure fit.
If you have a heavier, box-style CRT TV, place it on a low, stable piece of furniture that's appropriate for the TV's size and weight.
Use anti-tip brackets or wall straps to secure unstable or top-heavy furniture to the wall.
Enjoy the game! Don't forget to read through all our TV safety tips here.
Hard Facts about TV and Furniture Tip-Overs
Every 3 weeks a child dies from a television tipping over.
Each day, ten kids go to the ER because of a TV tip-over.
Top Tips for TV Safety
Secure TVs. Mount flat-panel TVs to the wall. Place older, box-style TVs (CRTs) on low, stable furniture that can hold the weight.
Attach furniture to the wall. Use anti-tip brackets, braces or wall straps to secure furniture to the wall. Install stops on dresser drawers to keep them from being pulled all the way out.
Rearrange household items. Store heavy objects on lower shelves or in lower drawers. Avoid placing remote controls, toys or other items in places where kids might be tempted to climb up or reach for them.
Recycle old TVs. To find a location that safely and easily recycles unwanted TVs, go to  www.GreenerGadgets.org.
Learn More
These tips will help get you started, but if you're interested in learning more about how to keep your family safe from TV and furniture tip-overs, read a full list of TV and furniture tip-over prevention tips.
Resources
Safe Kids Oregon works to prevent unintentional childhood injury, the number one cause of death for children in the United States. Safe Kids Oregon is a member of Safe Kids Worldwide, a global network of organizations dedicated to preventing unintentional injury. Safe Kids Oregon was founded in 1995 and is proudly led by Oregon Child Development Coalition.