WATER SAFETY AT HOME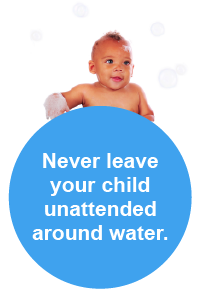 We know water is everywhere. So to make it easy, we divided it into three categories: Water in the home, swimming safety and boating safety.Here you'll find everything you need to know about water in the home. Whether you're bathing your baby in the sink or splashing around with your toddler in the bathtub, water is great fun for kids. But it's also a place where safety must come first, so here are a few tips for kids who love to get wet.
The Hard Facts
Among preventable injuries, drowning is the leading cause of death for children 1 – 4 years old. Children less than a year old are more likely to drown at home in the bathroom or a bucket.
Top Tips 
Watch kids when they are in or around water, without being distracted. Keep young children within arm's reach of an adult.
Empty all tubs, buckets, containers and kiddie pools immediately after use. Store them upside down so they don't collect water.
Close toilet lids and use toilet seat locks to prevent drowning. Keep doors to bathrooms and laundry rooms closed.
Install fences around home pools. A pool fence should surround all sides of the pool and be at least four feet tall with self-closing and self-latching gates.
Know what to do in an emergency. Learning CPR and basic water rescue skills may help you save a life.
Learn More
Want more information about safety in and around water? Check out some additional tips.
Resources
Safe Kids Oregon works to prevent unintentional childhood injury, the number one cause of death for children in the United States. Safe Kids Oregon is a member of Safe Kids Worldwide, a global network of organizations dedicated to preventing unintentional injury. Safe Kids Oregon was founded in 1995 and is proudly led by Oregon Child Development Coalition.